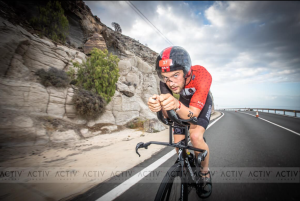 French triathlete Sam Laidlow joins the Anfi Challenge Mogán Gran Canaria. The only international triathlon in Gran Canaria continues to add exciting news and big stars for this edition.
The world number 4 has confirmed his participation in the Anfi Challenge Gran Canaria, giving a new level jump. Laidlow is runner-up in Kona (Ironman Hawaii), champion in 1406Inn International Triathlon, 4th in PTO US Open, PTO Canadian Open, runner-up in Ironman Uk, among other podiums. Sam Laidlow is back for revenge this year after his 2021 participation to make history.
Sam Laidlow led the swim in 2021 and was aiming for the podium, putting Jan Frodeno in trouble when a stroke of bad luck knocked him out of the race on the bike. After last year's absence, he returns to the island to get rid of the thorn in his side and complete the Anfi Challenge Mogán Gran Canaria, which he was forced to leave incomplete. It will not be an easy edition, the Frenchman will have to face more than 50 confirmed professionals, such as Patrick Lange, Aaron Royle, Florian Angert, Sebi Neef, the Belgian Pieter Heemeryck and the German Andy Dreitz, among others.
Runner-up in the world
Just a few years ago, a young Sam Laidlow took on the favourite Javier Gómez Noya at the Cannes Triathlon, causing a surprise and starting the take-off of a successful career. He was able to lead the bike segment for 70 kilometres but a broken chain prevented him from making a breakthrough in the race.
Since then, victory in the 1406Inn and runner-up in one of the most coveted races, Kona. 18 years of hard work and consistency earned him silver at the Ironman World Championships in Hawaii in a success he celebrated with his father and coach, Richard Laidlow. Sam Laidlow led virtually the entire race, up to six minutes ahead in the second transition and was able to set a new course record on the Kona bike course.