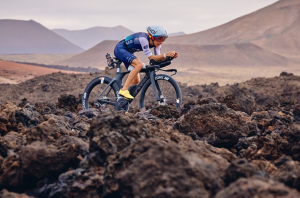 New triathlete confirmed: Anne Haug joins the Anfi Challenge Mogán Gran Canaria to sign up for a historic edition in Gran Canaria.
The German triathlete, world number 5, will be part of an epic start line, which she arrives to after a great start to the season in Lanzarote to continue testing her rivals on the islands.
The women's triathlon star has declared herself "very happy to be on the start line of the Challenge Mogán Gran Canaria on 22 April" because, as she said, she loves racing in "the tough Canary Islands".
Anne Haug is an exceptional triathlete, who has recently won titles such as Ironman Lanzarote 70.3 2023 champion, Ironman 2019 world champion, Challenge Roth 2021 and 2022 champion, third in the world in Ironman 2018 and 2022, third in the Ironman 70.3 world championship in 2018, Olympian in London 2012 and Rio 2016, as well as triathlete of the year 2012, 2013, 2019, 2021, among many other successes.
An exceptional triathlete
Anne Haug was born in Bayreuth in 1983, and at the age of 40 she has become one of the strongest stars of women's triathlon. She has been a champion since she was a child, and her mental strength is one of her many strengths. Anne Haug has a number of interesting facts about her: at the age of five, she started playing tennis, judo, skiing, volleyball, badminton and even became a world champion in Indian swimming.
She learned to swim at the age of 20 and in 2007 she started to make a name for herself in the world of triathlons. From 2007 to 2010, the German athlete took part in 19 ITU competitions, 14 of which she finished in the top 10. She started out in the short distance, fulfilling her Olympic dream at London 2012. It's no wonder she loves the Canary Islands, as her first title in the middle distance came at Ironman 70.3 in Lanzarote.
In 2019 she breaks the Ironman Copenhagen record with 8 hours 31 minutes 32 seconds, the first reward of a great year, where she was crowned Ironman world champion.