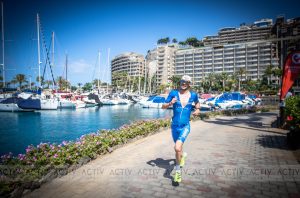 German triathlete Patrick Lange confirms his participation in a top-level edition of the Anfi Challenge Mogán Gran Canaria. On 22 April 2023 the start line of Gran Canaria's only international triathlon will feature several of the world stars of the sport, with the world number 12, two-time Ironman world champion setting the pace.
Patrick Lange will compete in a race he knows well, returning to the island that serves as his training ground throughout the year to showcase the sporting talent that has taken him to the top of the current triathlon scene. His record of success includes the title of champion of Ironman Israel, Challenge Roth, Ironman Tulsa, Ironman Vietnam, two consecutive world champion at Ironman Kona, Hawaii, as well as Ironman 70.3 Ruegen, or Ironman Texas.
Patrick Lange raises the level of a high-voltage edition that already has more than 50 confirmed professionals.
The German star has met all the major challenges of the professional triathlete, winning not once but twice Ironman Kona, and breaking the eight-hour record. In his debut in Hawaii in 2016 he already finished third behind compatriots Jan Frodeno and Sebastian Kienle with an all-German podium.
Australian Aaron Royle, Florian Angert, Sebi Neef, Belgian Pieter Heemeryck and German Andy Dreitz, among others, as well as Alexandra Tondeur, Elisabetta Curridori, Charlene Clavel and Megan McDonald have also confirmed their entries for the Anfi Challenge Mogán Gran Canaria.