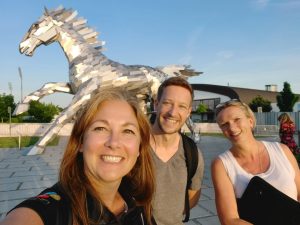 Our dear colleague Beth, from the Anfi Challenge Mogán Gran Canaria organising team, has just returned from an exciting week in Šamorin, Slovakia. Her experience has been incredible, and she tells us so.
On arrival and together with Challenge Family PR and marketing staff, they were joined by Belinda Granger, a former triathlon world champion and now a commentator and professional athlete liaison for Challenge Family.  Learning, gaining ideas for Anfi Challenge Mogán Gran Canaria and engaging more with the team in the future was part of the adventure.
"Little by little, the professional athletes were filtering in, and Belinda knew everyone, she welcomed them all as if they were all family and they were all very happy to see her and be there". Beth was also able to meet stars who shone in Gran Canaria, such as Lucy Buckingham, who reiterated how much she loved the race at Anfi, and that this was her favourite.
"My job was to meet the professional athletes and make sure they were where they needed to be. It sounds easy, but this place is huge."  Among them, Beth did pre-race interviews with Richard Varga, Frederic Funk, Gustav Iden, Kyle Smith, Miki Taagholt, Josh Amberger, Fenella Langridge, Emma Pallant-Browne, Ashleigh Gentle, among other triathletes.
All set for the weekend. Saturday was the first day of the race with side events including several short distance triathlons, a kids' race and the "beautiful and inspiring" Special Olympics Triathlon, as Beth called it. On Sunday, the big day, the place was "bustling, bright and warm".  Beth's job there was to set up interviews on the live stream with any willing athletes, making sure not to break their focus, and to liaise for the other teams.
"The live stream team were fabulous, so professional," said Beth. "Our Sara Perez Sala had an amazing day, winning the biggest win of her career just weeks after taking victory at the Anfi Challenge Mogan Gran Canaria."  Emma Pallant-Browne (winner of Challenge Gran Canaria 2019) beat Lucy Buckingham, 3rd this year in Gran Canaria, and the two also met again on the podium.
"For the men, after a puncture in T1, Gustav Iden still managed to take the gold" with Richard Varga in second place, and Thomas Steger third, "after a battle with his teammate Miki Taagholt", recalls our colleague.
Beth was at the finish line, "welcoming the athletes to the line with water, hugs and selfies" and took the winners for live interviews, which gave way to a press conference where "we were all laughing so hard," she confesses.
The awards ceremony "was packed, and the after-party where the staff and athletes danced until the early hours of the morning had a lovely atmosphere," she explains, "you could really feel the team spirit.
Beth says that what she enjoyed most about the experience is that "I really felt the Challenge Family atmosphere, which is real, with a fantastic team, like a family!" She confesses that she "can't wait to bring everything I've learnt to Anfi Challenge Mogán Gran Canaria next April", an event where we will grow and improve, as we do every year, to make this event one of the best in the world.